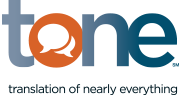 We create opportunity by speaking your language and accepting many file types including scanned images, audio files, or videos depending on the service you need.

In a world dominated by technology, we use humans to translate nearly everything... except those ineligible stamps and untranslatable words (they do exist!)

As a partner in your success, choose the option most convenient for you: electronic, hardcopy by mail, or pickup in person.